14Jun 11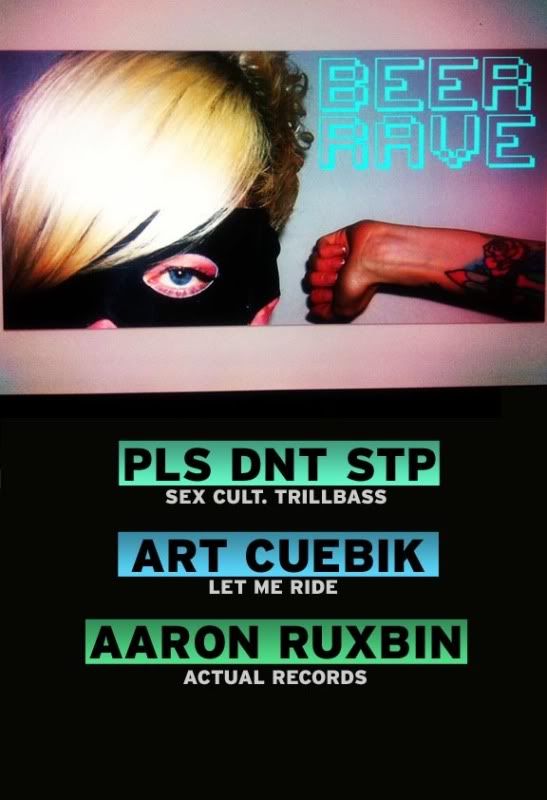 BEER RAVE
As per usual, we'll be bringing the best in Dubstep, Electro, Hard House, Club, and Moombahton every month. And just to get it really going, stop by 10-11 and enjoy some free beer on us.
PLS DNT STP
ART CBK
AARON RUXBIN
Medusas Lounge (21st and Chestnut) June 18th. $5 All Night FREE BEER 10-11 $4 Pabst+Whiskey
PLS DNT STP (Sex Cult, TrillBass Records, Ministry of Sound, Ultra)
Their list of remixes won't stop. From their Designer Drugs remix of "Through the Prism", currently featured on The Mistry of Sound's, "Sound of Dubstep Mix.", to their forth coming remix of Hussle Club for SEX CULT records, PLS DNT STP is on a tear. Watch out for their new mix, Information Overload Vol 3, and remixes on Unruly records as well as new reworks for Designer Drugs, and a limited 7″ release for Actual Records.
http://www.facebook.com/PLSDNTSTP
http://soundcloud.com/plsdntstp
@PLSDNTSTP
ART CBK (Let Me Ride)
The man with the golden touch. He's been throwing down in Philly for almost a decade and a half. From the wild nights of Let Me Ride, to the floor dropping Jungle Rave parties, Cuebik likes to keep his bases covered, and his Gin and tonics cold.
AARON RUXBIN (Actual Records, Phonographic)
Founder of Actual Records and the DJ who brought you 'Phonographic' and '180gram', this guy has the pulse of philly on speed dial. Underground parties with T&B artists spinning in a living room? Done. Grimey warehouse parties in philly? Done. Pressing his own records? Done. And yes it is true, Aaron Ruxbin still spins real vinyl [and nothing else]. Bass heavy analog soundscapes and electronic dance music.
http://soundcloud.com/dayofthedubstep/dj-ruxbin-presents-the-day-of
http://actualrecords.org/
+++ DUBSTEP_HARDHOUSE_ELECTRO CLUB MOOMBAHTON +++
Medusas Lounge 21st and Chestnut +21 $5 All Night FREE BEER 10-11 $4 Pabst+Whiskey All Night.